You can watch the video here:
https://www.youtube.com/watch?v=K1FkwdR_UKc&ab_channel=Stereum
RC.8 Release​
Slashing Protection DB

download when removing and upload when importing keys

Name your validator accounts

and give them aliases instead of a bulky hash

Internationalization

bringing new languages

Switch Network

(experimental) to first try your setup on testnet, later migrate with same config to mainne

Widgets on Control page support multiple services of same type

Other bugfixes & small improvements

 
With our latest release candidate we have reached a new milestone - 1000 downloads in just a few days. We hope That's just insane and we want to thank you for supporting Stereum so much.
Stereum Audit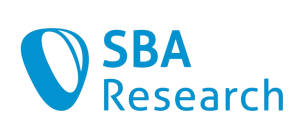 In the last 2 weeks, we also had an Audit by SBA Research. This was started voluntarily by us and should also give more certainty with Stereum 2.0. After having taken care of severe issues, we will release the report on our github & as well as on our website, where you can dig in and check out their full findings.
Public Alias​
With our new advanced naming feature, you can change the name of your validator to an alias – so that not everyone you want to show your node to also sees your validator public keys.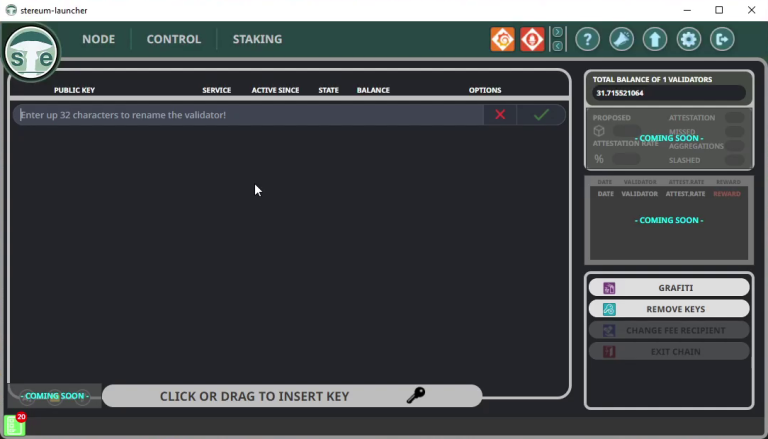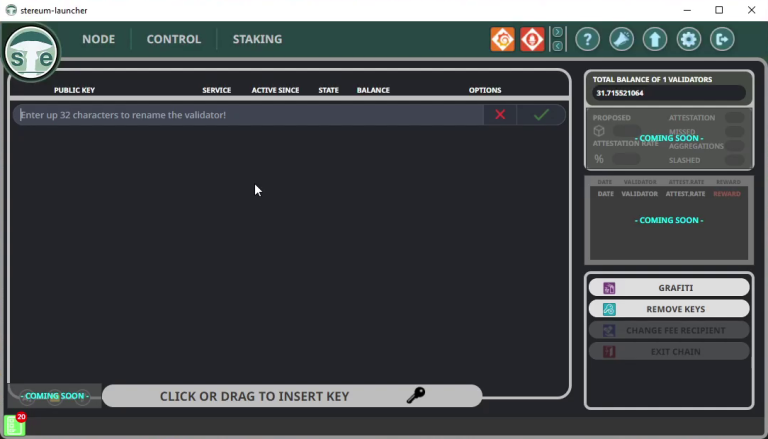 To customize your key: 
Go to the staking page

Click on the Naming-Button then type in an alias

After that confirm by clicking on the checkmark

Then you are done
In the future it will also be possible to  filter and group the keys.  
Service Selection Filter​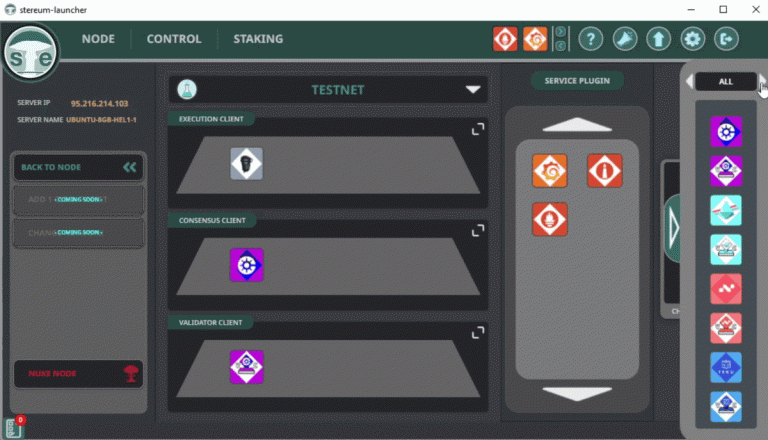 Another thing that went a little under the radar in the last weeks is the new filtering option in the service-selection side-bar. By clicking the arrows at the header of the side-bar you will go throw the categorys all available services , execution clients, consensus clients, validator clients and services.   
To access this feature: 
With this feature, we hope to make the editing process clearer and easier. 
Gnosis​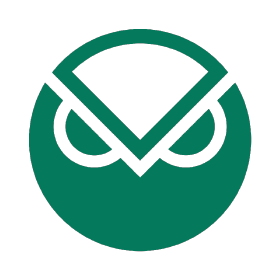 After having handled the release of RC.8, we jumped into the work for our next version. As we mentioned in the last episode, we are in the process of implementing the Gnosis Chain into Stereum 2.0. Dug into the process, we can already report first results. The first one click installation tests have been successful. This means that we can soon start testing the first live version.   In any case, in just 8 weeks you can look forward to stake with Gnosis in Stereum as well. 
Slashing DB​
I don't know if you have already seen that the Slashing protection is well implemented.  The slashing protection works with a database that will be handed to you whenever removing a key from your node. This file needs to be safed locally, by choosing a path. The other part of the slashing protection will work when adding a key to your node. Here a new window or field opens where you can select your database. Stereum then checks if everything is ok and if your key is already used by another node. If this is the case, you will receive a corresponding message. 
Mobile App Integration​
The Stereum Node Monitor Mobile App re-integration is currently in the works and with this feature, you will be able to be notified of your nodes status everywhere, where there is a phone signal. The app login will work with a QR code – like it used to work in Stereum 1.0  
But we also made it easier here with 2.0. Instead of having to search for the code, you can simply open it. In the Stereum Launcher, the QR code will be displayed and you will have to scan it with the Stereum Node Monitor Mobile App. This will connect your phone to your node. Once you are logged in, you can receive notifications from your node.  
For example, you can specify with Grafana what you want to be notified off – including for example when you miss a attestation or when a client shuts down. This feature can be a real life saver if used properly.   You can look forward to this feature with 2.0.0. 
Bug Fixing​
Of course also this week bugfixing was a big part of our work. F.e. we fixed a bug where the default graffiti of your key would be "stereum.net"  when using Nimbus as your consensus / validator client. It is great for us to have a indicitator if you used Nimbus in the past, however this was  obviously not intented.  
Now our mistake is forever engraved into the blocks of the blockchain.  
Contribution Program​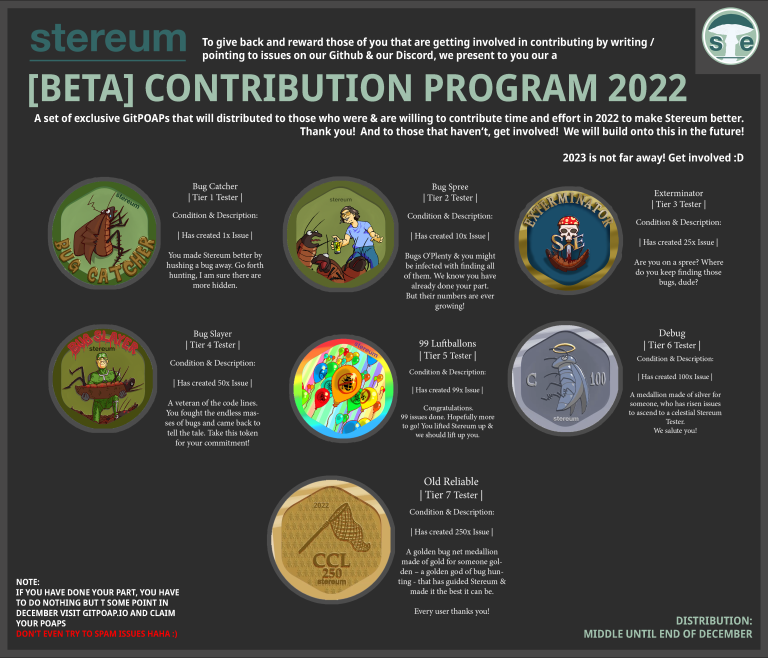 Now it is your turn!   Saw a mistake and can no longer live with it? Write a Github issue, by accessing the website, simplest done on the top of your Stereum application and get involved yourself! 
From a small feedback lesson to a giant laundry list of problems you see. Pick up the call and let us reward you for your time. Time Exlclusive GitPOAPs await you. ONLY FOR THIS YEAR! 7 different TIERS, with more meaning & prestige waiting in the future.  
Take part in Stereum's Contribution Program. Lets start here!