You can watch the video here:
https://www.youtube.com/watch?v=LxVcT6FsZAQ&t=143s&ab_channel=Stereum
The #002 biweekly update of the Stereum team is all about our one-click installation, wiring the UI to the backend for Stereum2.0 and how you can sign up for the Update & Upkeep Challenge.
Little UI changes
In our last team meeting, the new UI came up again and more specifically we had a small discussion about a display window that is supposed to show you the progress of the node set up, even after you close the window when setting up the node. A solution was found rather quickly, changing the layout a little for Stereum 2.0 – This way you will have the option to always monitor the progress & we might be able to send you notifcations to your Stereum Monitor app, if your synch process is completed.
One-Click-Installer
The One-Click-Installer is progressing, for those who don't know what I'm talking about, The new UI will change how installation works inside of Stereum. There will be a split into different categories. One that is completly customizably for experts and one that, called 1 click installer, which will enable the user to select the use-case of the node at time of setup. These defined use cases currently include: Staking, Testnet, Blox's SSV. After selecting the use-case Stereum Setup selects necessary client services automatically and picks a user's client randomly modified by client diversity metrics. We hope to do our part to push the network further when it comes to client diversity 
UI and Backend
Stereum 2.0 is getting closer and closer to release. This week the wiring process has started. This is the process of connecting the UI and the backend. After this is done the whole system has to be fine tuned and tests and adaptions have to be done. We expect to present an early version of Stereum 2.0 at the Devconnect in Amsterdam. Therefore we would be happy to meet you there. 
Stereum Merch
We are planning to release a small merch line for Stereum. Mainly to represent the team to the outside, but of course also for you as away to show your excitement for Stereum. David is thinking of a design. He wanted some creative input, so if you have cool designs or ideas what you would like to see or want to have, you can write us your ideas on Discord. We are grateful for every suggestion.
Stereum 2.0 is Multilingual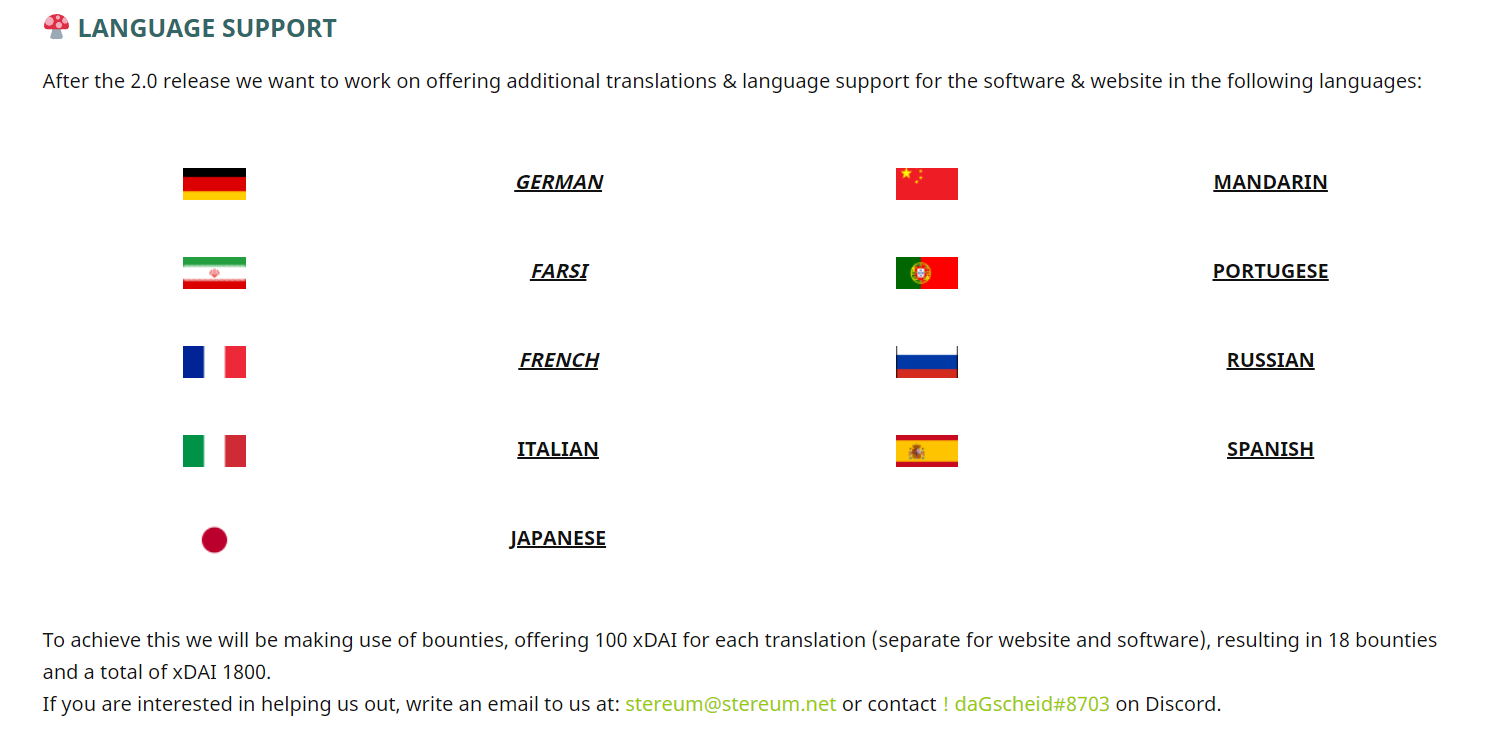 Stereum 2.0 will be multilingual and we need you. The first version will only feature all the languages we plan to include & are capable of translating internally. That's where you come in, if you also want to contribute to Stereum then write our team an email at stereum@stereum.net or contact David on Discord at ! daGscheid#8703. Your work will be rewarded with 100 DAI per completed translation. 
Founder Talk
Our founder Stefan also wanted to contribute to this blogbost, so here are some words from him:
The month of February started well, we began wiring the UI with the backend – which is as important as challenging because of the complexity of the componentes. I hope to see some functional parts soon of STereum 2.0 and share it with you too.

We also take great care of Blox SSV service already, as you may know Blox SSV operator service will be part of Stereum 2.0 and the preparation is done, check out the github actions to see how it works!

The Stereum team also integrated i18n (internationalization support) which means there will be soon the oppertunity to earn some money by translating Stereum 2.0 to your favorite language.

Last but not least, the 3rd  U&U Challenge is set out to break a bunch of new records! Not only does it look like more people than ever signed up for it, it's also the first U&U Challenge we do with 2 NFTs to give away to the lucky winners. One of them is from a local artist and one is from CryptoWiener.

Good luck to all participants, may the blocks be with you!
Question of the day?
And last but not least, we have a little riddle for you. We recently encountered a problem that was quite tricky. The question is: How do you check automated images? If you have any idea or solution write ! daGscheid#8703 on Discord . Every participant will get a POAP from us, for that you have to write us the answer you have and your Ethereum address, after that we will contact you. We are looking forward to every submitted answer. The solution how we solved the problem will be shown in 2 weeks in the next edition of Under the Surface.